Metronet Business Breakfast October 4 with Rita Saffioti – Chamber Of Commerce And Community
THE METRONET IS COMING!
We have the distinct pleasure of welcoming The Hon. Rita Saffioti, Minister for Transport, Planning and Lands to speak about the government's recently announced plans for the Metronet Bayswater-Ellenbrook Line. Ms Jessica Shaw, MLA for Swan Hills will also be present to discuss the Metronet plans for the area.
The Metronet represents a seismic shift in transportation and access across the Northeast of Perth and the metropolitan area as a whole. With extensive works across the Metro area, there is a great deal to be done and a great deal still to be discussed and decided.
This breakfast will afford you the opportunity to hear directly from the Minister, who will brief us on plans, while you will also be able to explore with her the many impacts and opportunities that Metronet will present.
Breakfast will be a Buffet at Muscats Restaurant, The Vines Novotel Resort.
Don't miss this important event!
—
Hon. Rita Saffioti, BBus MLA
Minister for Transport, Planning and Lands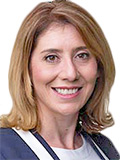 The daughter of Calabrian post-war migrants, Rita Saffioti was raised in the family orchard in Roleystone.
Rita's professional background is in economics, having worked in Treasury in Canberra and then for the WA Government, before working directly for Premiers Gallop and Carpenter in the previous State Government, ultimately as Chief of Staff.
Rita was elected to State Parliament in 2008, and joined Mark McGowan's Shadow Cabinet team in 2013.
Following the Labor election victory in March 2017, she was appointed the Minister for Transport; Planning; Lands, giving her the opportunity to deliver to a more integrated approach to transport and land use planning, and responsibility for delivering important commitments including the METRONET project and planning for the future Outer Harbour.
Rita is married with three young children, a six year old and five year old twins. They keep her busy but also focused on making sure we continue to make Western Australia a better place to live.
When not at Parliament or with her family, Rita can usually be found at the footy cheering on her team, the Fremantle Dockers. (Chamber: But we won't hold that against her.)
—
Please forward this invitation widely for this important event.
We look forward to seeing you there!
Peter McLean
CEO
Chamber of Commerce And Community
www.chamberofcommerceandcommunity.com